Make
AI

artificial intelligengce

write the story you want

Not the story it's been trained on. 💪

You know you're not gonna make it if you don't find a way to write with AI. But you also recognize that standard LLMs are horrible storytellers. It's a familiar scene: a generative plot that begins with a spark, only to dissolve into predictability. With a unique blend of narrative theory and artificial intelligence, Subtxt empowers you to write stories like you never have before, without leaving you at the mercy of advanced calculus and probability.

With Subtxt, AI is your pen—not your author.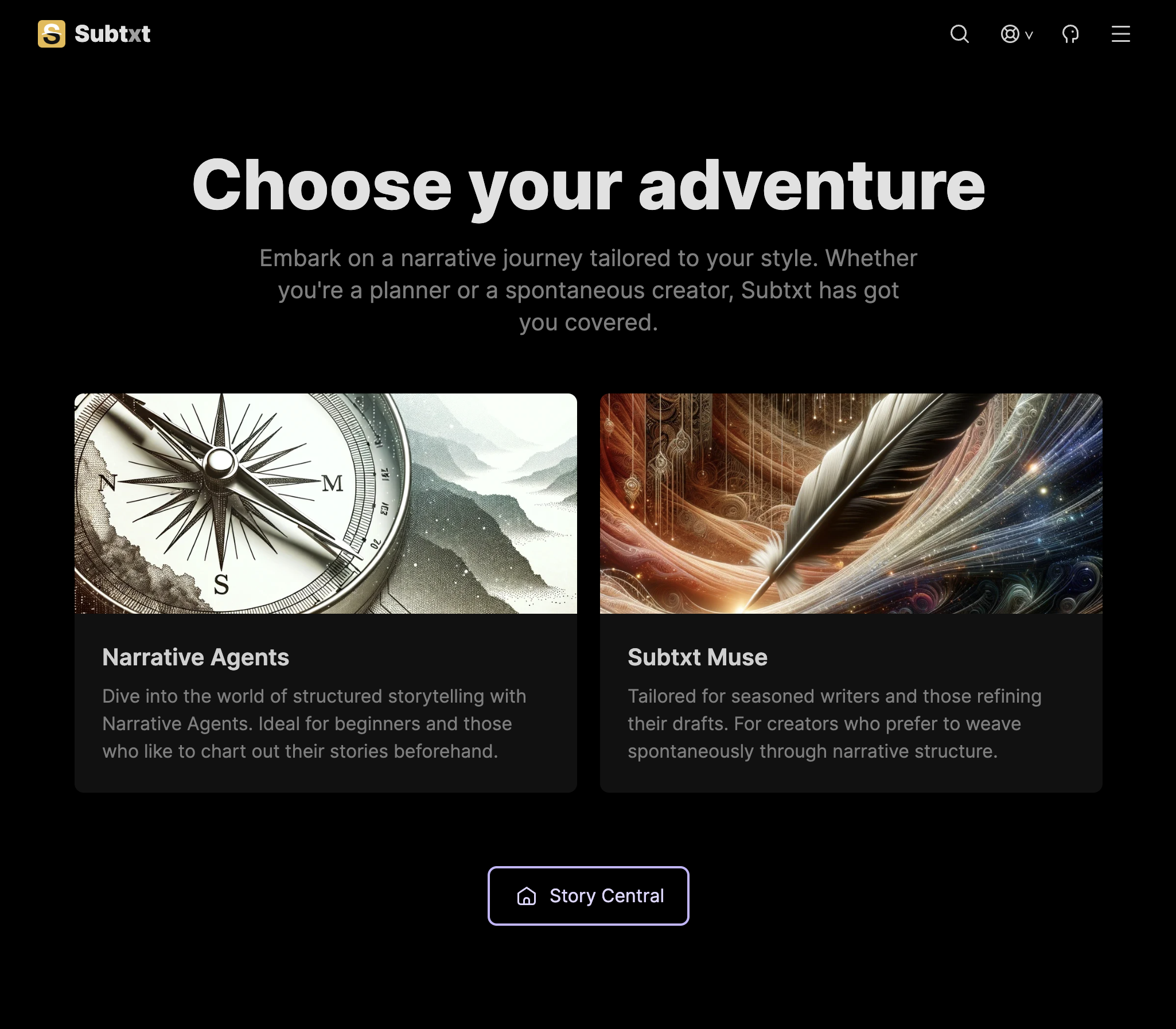 Subtxt is your secret weapon in the battle against pointless stories. We're on a mission to help storytellers like you craft complete, compelling narratives that captivate your audience from start to finish.
How do we do this? Through an innovative blend of story-building expertise and a predictive narrative framework that's stood the test of time. Subtxt's intelligent chatbot companion, Muse, works alongside you as you weave your story. While you focus on the creative process, Subtxt ensures you stay on track, maintaining the coherence and direction of your narrative.
Introducing
Narrative Agents & Subtxt Muse
Meet the dynamic duo that redefines how you approach AI storytelling. Narrative Agents are your go-to for structured storytelling, making it easier than ever to build compelling narratives from scratch. And when it's time to dive into the intricacies, Subtxt Muse offers expert-level guidance rooted in decades of narrative theory. Together, they transform Subtxt from a tool into your ultimate narrative partner.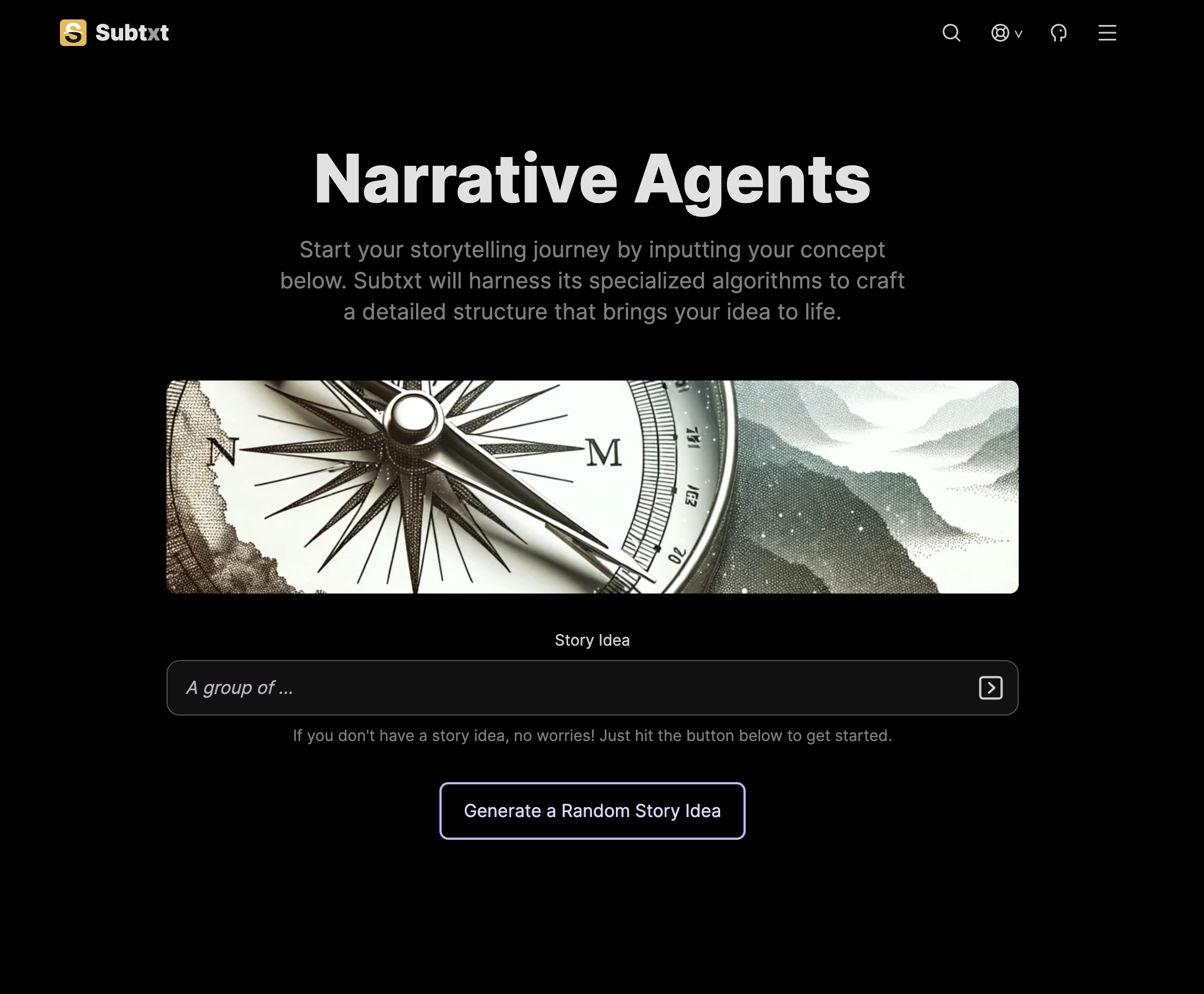 For those dipping their toes into structured storytelling or for those who like to plot out their adventures from the get-go, meet Narrative Agents. Think of them as Auto-GPT for storytelling. They're your ideal jumping-off point within Subtxt, guiding you with intelligent suggestions that ensure your narrative doesn't end up as a tangled web of loose ends. It's like having a narrative cheat sheet, but one that's tailored just for you.
So, pick your favorite movie or novel from our professionally-curated repository of hundreds and hundreds of story structures and spin up a new narrative. In a matter of minutes you'll have a working outline based on meaningful intent, and vision. Not math.
Make no mistake: We never train on the actual text of a work. We don't fine-tune our models on screenplays or manuscripts because we know this is a recipe for disaster. Anyone who knows even a little bit about narrative structure understands that the words themselves aren't the story, it's the story underneath it all that we connect to.
So, we don't waste our time on what we know doesn't work.
That's our killer advantage.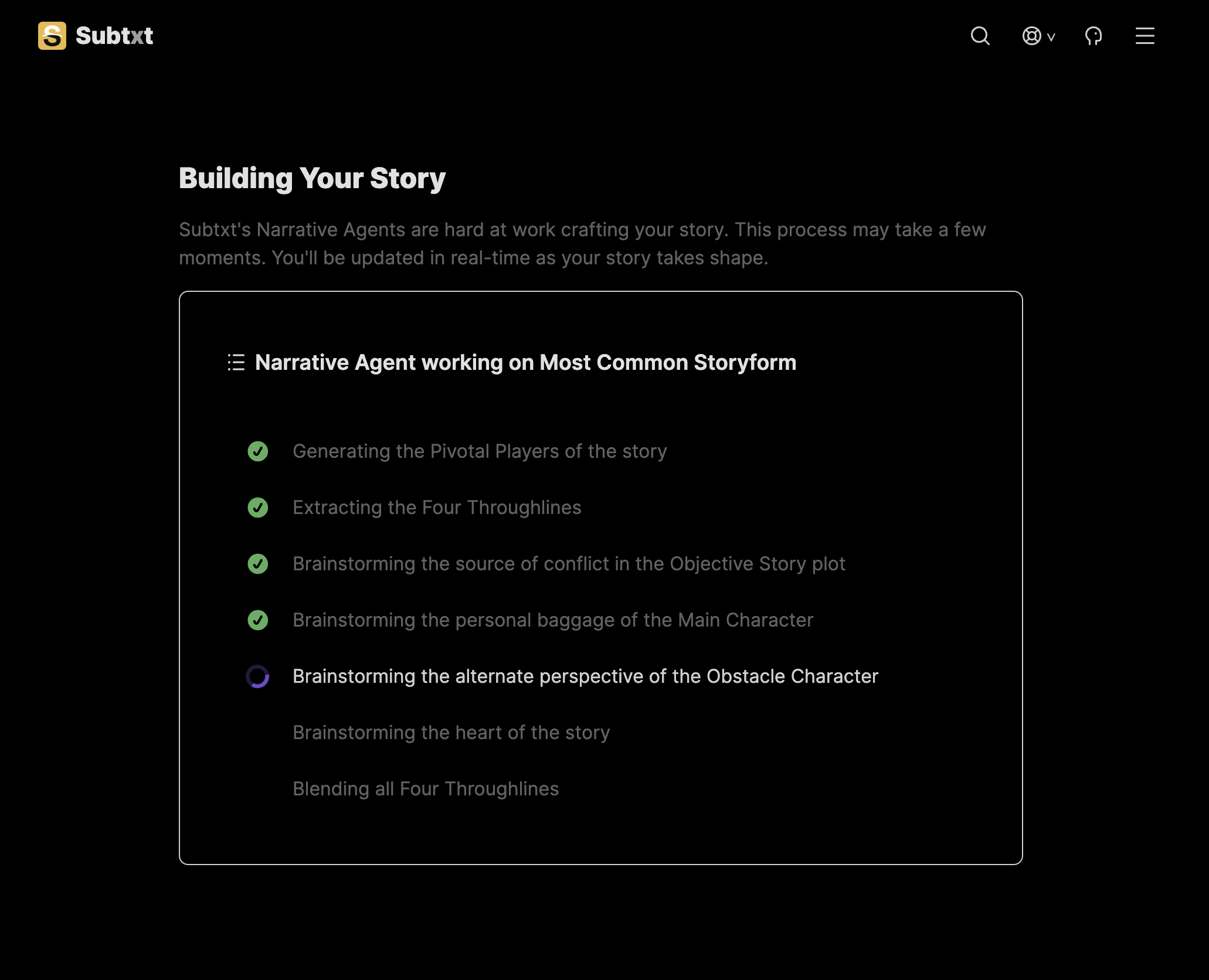 Wanna know a secret? The reason why standard AI systems write garbage stories is because they've been trained on Aristotle, Hegel, Hero's Journey, and Save the Cat! They will always fail because these are audience-based subjective paradigms of structure. Subjectivity is biased and incomplete. The stories they write are therefore, incomplete.
Subtxt, on the other hand, is trained on an author-based OBJECTIVE paradigm of story structure--which means it sees the entire picture, not a half-assed one.
Subtxt's Narrative Agents elevate your storytelling game by focusing on the meaning of your story—the subtext—rather than repetitive structural clichés. Once you make a request, these Agents spring into action, filling in key parts of your narrative based on your artistic intent. With tens of thousands of unique narrative structures at their disposal, they'll find the one that perfectly aligns with your vision. The best part? Subtxt does all the heavy lifting, so you can dive straight into the joy of writing.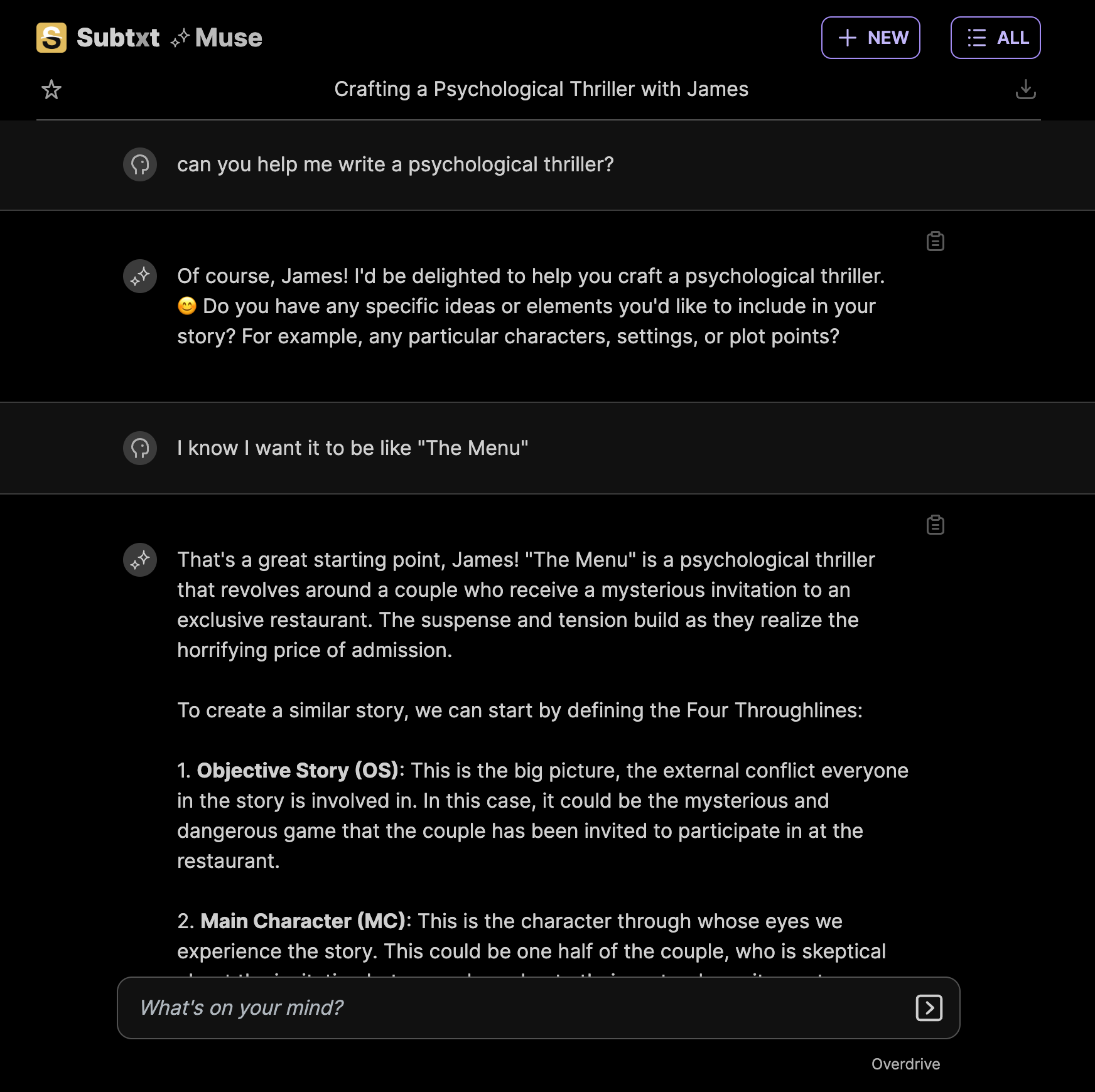 Subtxt Muse is more than just a writing tool—it's your narrative partner. Whether you're a beginner looking for guided steps or a seasoned writer yearning for complex insights, Muse adapts to you. Our goal? To empower you to express your unique voice and creative vision in stories that don't just entertain, but resonate.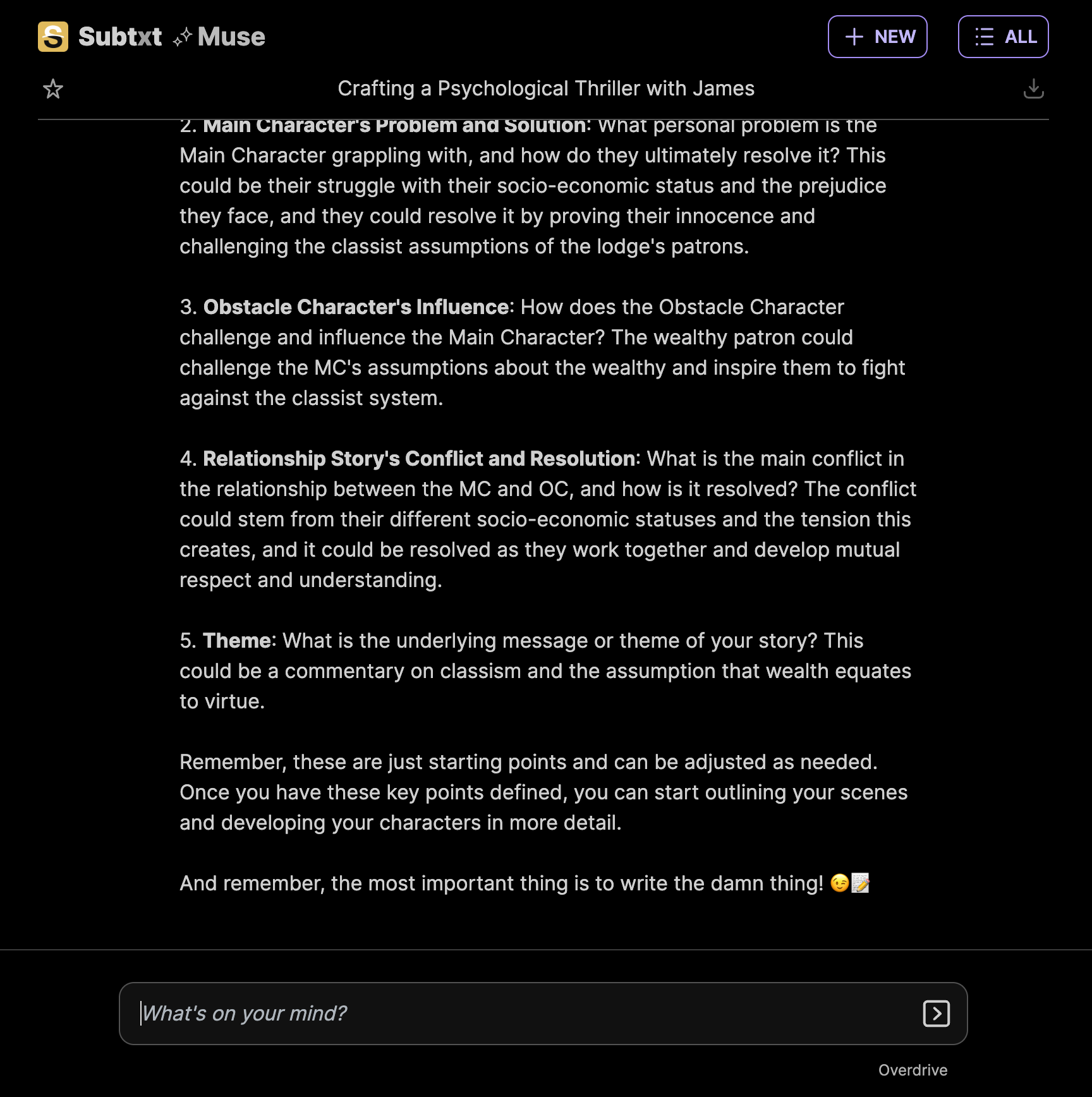 If you're looking to go beyond the basics and really hone your craft, Subtxt Muse is your trusty guide. Imagine a narrative consultant who's spent three decades studying the nuances of story theory—that's Muse for you. Whether you're in the process of refining a draft or spontaneously weaving through your story, Muse offers tailored suggestions and insights that are a cut above the rest. This is where years of narrative expertise come to life, allowing you to navigate your story with unmatched depth and intuition.
Remember, Subtxt isn't here to write your story for you - it's here to empower you. We believe in your unique voice and creative vision. Our goal is to equip you with the tools and knowledge to express that creativity in stories that grip your audience from the first word to the last.
Ready to write better stories? Come on in and discover the Subtxt difference. Your storytelling journey starts here.