The Credit System
Subtxt's powerful AI features require a lot of "gas" to get going. You can't fly to outer star systems without having a great deal of rocket fuel to get you there. 🚀
Subtxt AI works off a Credit system based on your current monthly subscription.
The Two Tiers of Subtxt AI
There are currently two tiers of Subtxt AI's credit system:
The main difference between the two tiers is your monthly allotment of Credits for use with Subtxt AI:
Basic: 100 credits
Unlimited: UNLIMITED credits
The credits on the Basic plan are on a per month basis, and they do not rollover from one month to the next. If you end a current monthly cycle with credits remaining in your account, these will be removed before adding a fresh new set of credits.
The Anchor Date for your subscription is the date of the month you initially purchased your Subtxt subscription. Whether you are on a Monthly or a Yearly plan, when your Anchor Date rolls by Subtxt will automatically reset your Credits back to the appropriate limit (based on your tier).
You may find the Anchor Date for your subscription included in the Credit Counter found on your Profile page. This will be the date when your account is loaded back up with your monthly allotment of AI credits.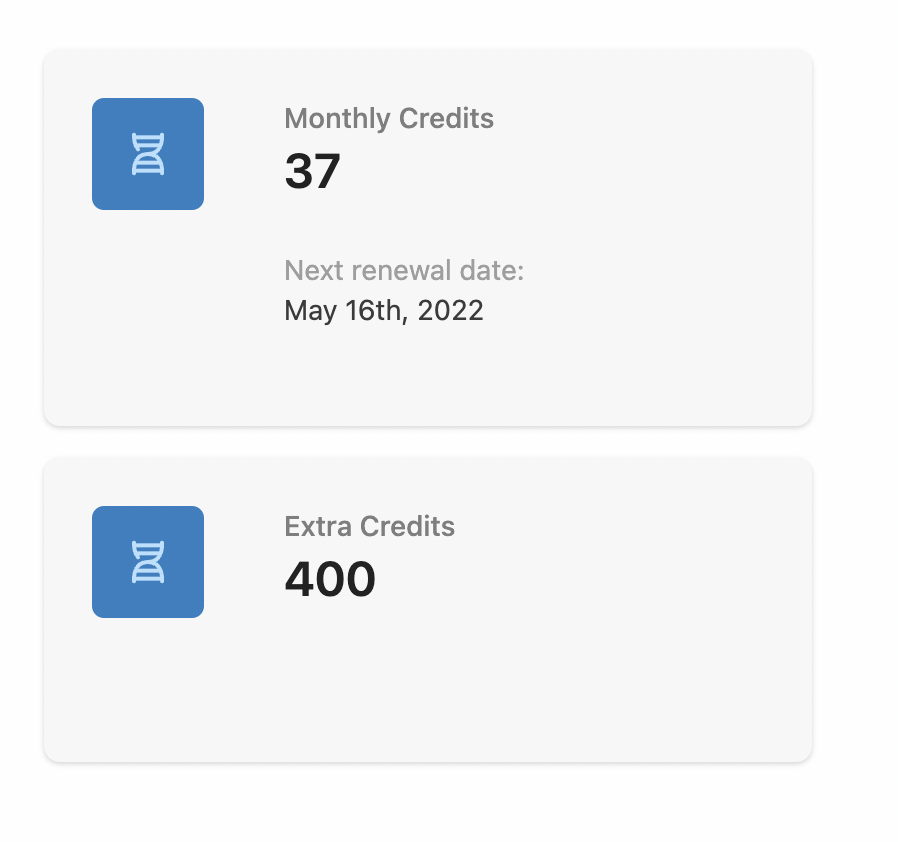 If you need extra credits for a current billing cycle, you can either upgrade to a higher tier or you can purchase extra Credits for use during the month.
Extra Credits for Subtxt AI
Extra credits are available for Subtxt AI within your Billing profile. Currently, we offer a set of 400 Extra Credits at a time.
These extra credits do rollover from one month to the next, i.e. the extra credit you purchase for Subtxt AI, the extra credit you get to keep in your account. If you end one billing cycle with extra credit left in your account, these extra credits will carry over into the next month.
You will find the button to purchase Extra Credits at the bottom of your Billing profile.
Credit Usage
Credits are expended at an average rate of 1 Credit/1 Request. While there are some requests that might require more credits (or less), you can safely assume that each request takes one credit.
The Subtxt AI implementation of the "You and I" arguments found in the Premise Builder and on the Story tab in your individual stories do not expend credits. In fact, anything you find on the Premise Builder is free and unlimited. We want to encourage experimentation and creativity when finding your story's structure. They are free for you to experiment with as you determine the core foundational argument of your story.
Those familiar with the AI and its ability to quickly and expansively illustrate out your story know that the Basic tier is simply not enough to get through every Storypoint and every Storybeat of each Throughline. If you are in the middle of heavy development or find yourself quickly running out of credits, we strongly suggest upgrading your account to the Unlimited tier.
Pay Periods for Subscriptions
Subtxt offers two pay periods for your subscription: Monthly or Yearly. You can find a switch to compare prices between the two at the bottom of each Tier.
For Basic Yearly subscriptions, the listed Credit allotment is reset every month. For example, every month on the same day you initiated your subscription, your credit amount will be reset to 100 credits. If you subscribed on Apr. 14th, 2022, then on the 14th of every month for the next calendar year your credit will be reset to 100 credits.
Note that Yearly subscriptions not only save you money on your subscription, but also come with 1:1 story consulting for each project over the span of the year (approx. 1 hour each). Monthly subscriptions only come with a one-time 1:1 on-boarding meeting. Learn more about Subtxt Concierge.
Legacy Subscriptions
If you had a subscription to Subtxt dated prior to April 12, 2022 then you have automatically been updgraded to a Basic Plan (Tier One). You don't have to anything to your account to be able to start using Subtxt AI.
If at anytime you would like to upgrade to the higher tier, we suggest cancelling your account first, and then upgrading to one of our more recent pricing plans.
warning
Subtxt's AI features only work with Storyforms built within Subtxt (the Premise Buidler or from a previously built Storyform). Storyforms uploaded from an external Dramatica application are not compatible with these new AI features. Consider updating your Storyform if you would like to take advantage of these tools.
Artificial Intelligence and Story Generation
The AI system we use for Subtxt is an outside service provided by OpenAI. The breadth and power of this service is so vast that we have to institute this Credit system to account for all the requests. While some of the responses you get might not suit your particular story, there is no way that we can objectively measure that and thus, have to measure each request and response equally.
If you find yourself running into garbage responses from the AI, feel free to contact us directly for extra quarters. 😎