Personal Settings
Subscribers to Subtxt can personalize their experience while developing stories with the application.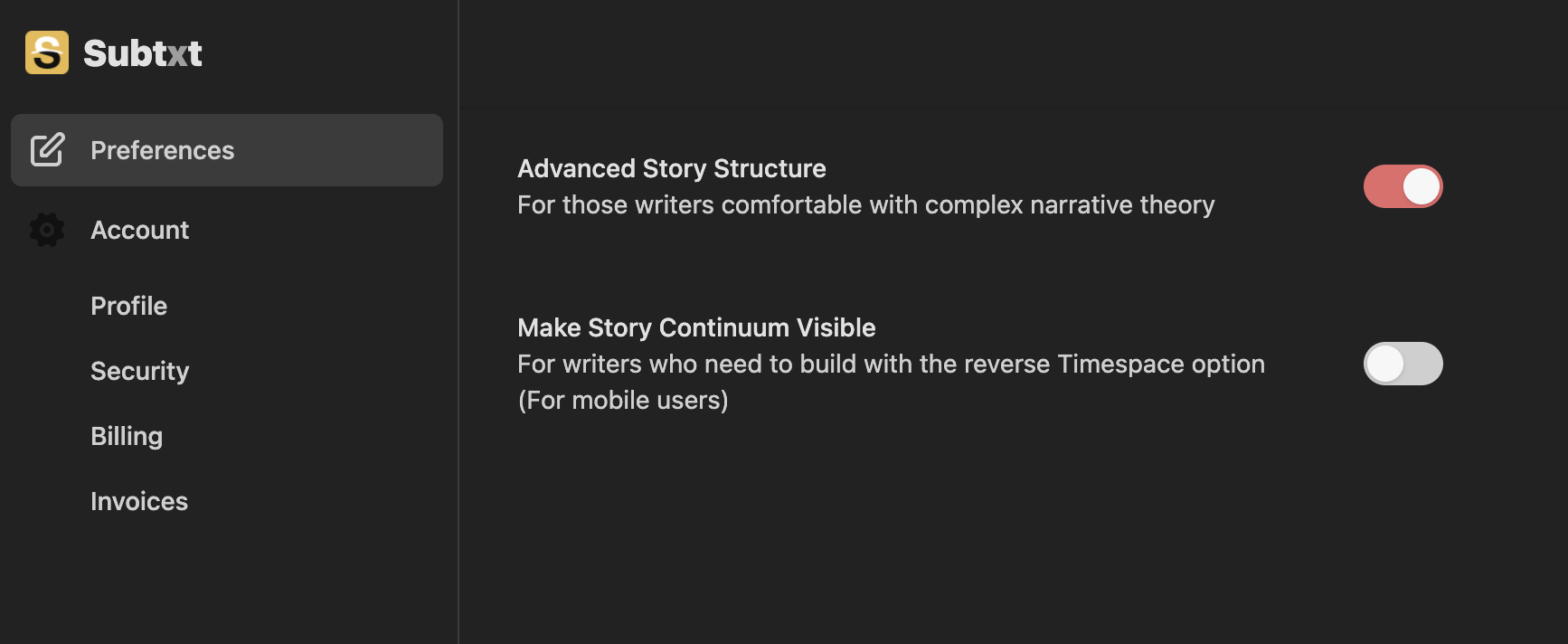 Your Preference Settings in Subtxt
Your Personal Settings are found by clicking the "person" icon in the upper right hand corner of your screen.
Advanced Story Structure
When you first subscribe to Subtxt, we turn off a couple of the more advanced theoretical features to help you find your footing and get used to this new and unique way of looking at story.
Once you feel comfortable enough with many of the basic concepts, feel free to turn this on in order to enjoy all that Subtxt has to offer you.
(Note: If you are familiar with the Dramatica theory of story, make sure you turn this on)
Making the Story Continuum Setting Visible
When it comes to building a story, 9 times out of 10 you'll want to make sure the Story Continuum is set to Spacetime. There are many many theoretical reasons for this, but for now just know that pretty much every story out there sets a preference for space over time.
Subtxt accounts for this reality by defaulting to Spacetime anytime it builds a story from within the Premise Buidler.
If, for whatever reason, you need to specifically set the Continuum to Timespace (if you were writing a story like 1917 or High Noon), you can flip this switch on to have the Continuum show up temporarily in the Subtxt Settings of the Premise Builder.
(Note: You can also type Ctrl + E to toggle the visibility of the Continuum from within the Premise Builder. This setting is primarily for mobile users who don't have access to a keyboard).
Logging Out
As Subtxt is a web-based app, you will remain logged in to your account until you intentionally log out. You will find the option to Log out in the upper right hand "hamburger" menu dropdown.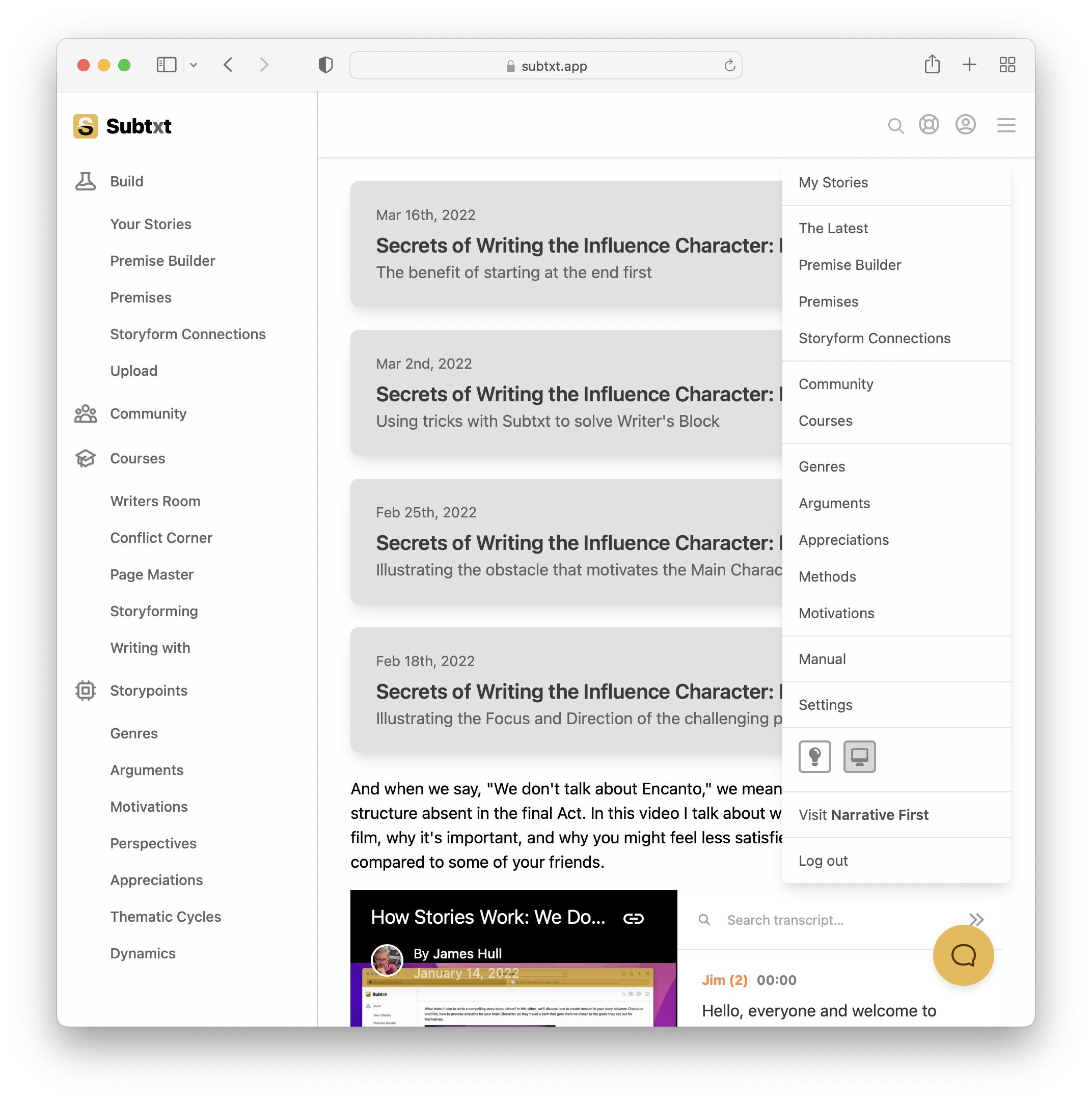 The same Log out option exists in the mobile version of the app.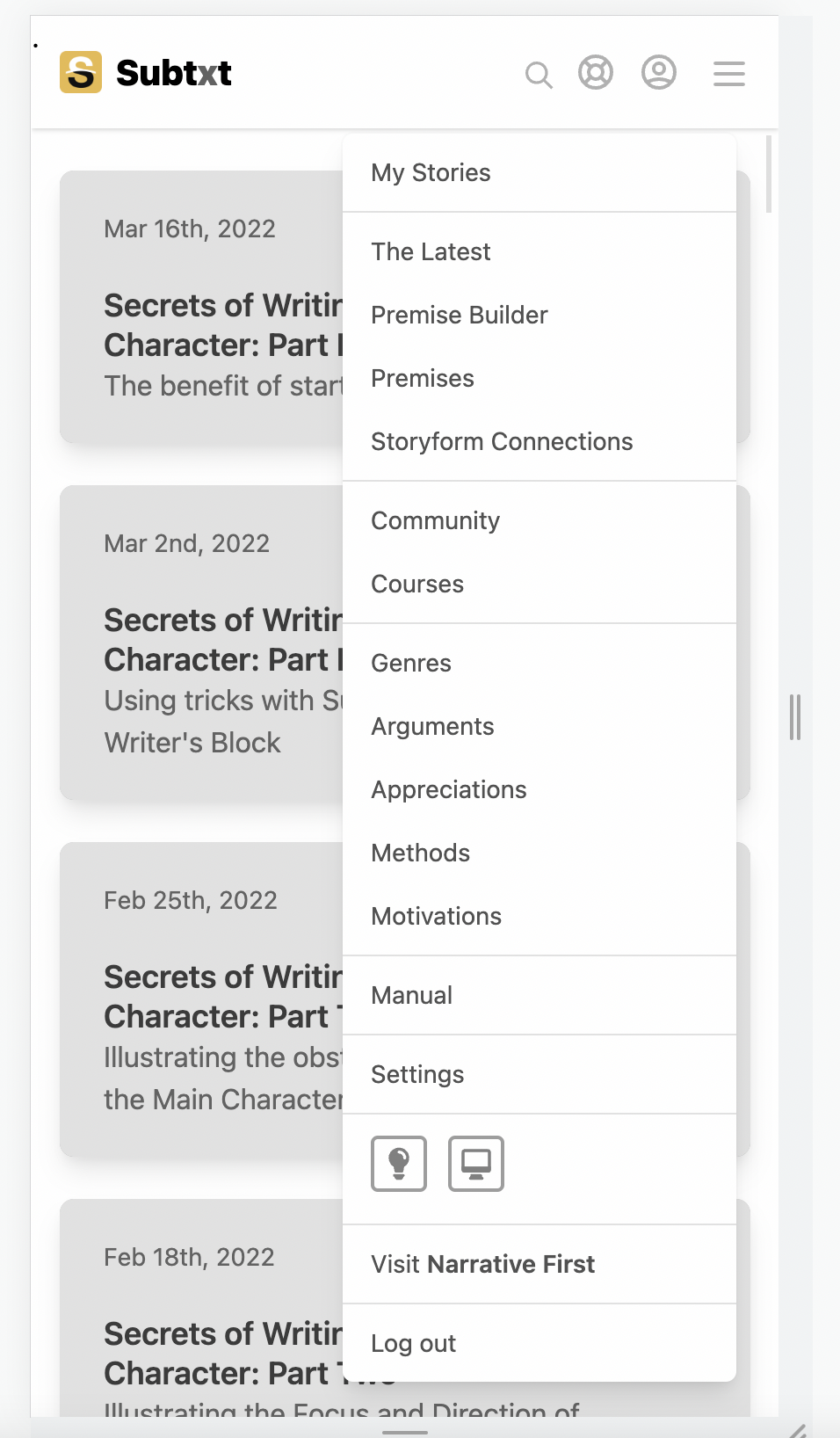 While logging out is the best option, if the system detects a signficant period of inactivity (you've been away from the keyboard for a long time), it will automatically log you out.
If that happens, just Log back in and you'll be back where you started.