Illustrating Throughlines
Skipping down to the Illustrating section, this is where you get a broad overview of your story's structure. This section provides several key Storypoints crucial towards developing a great story.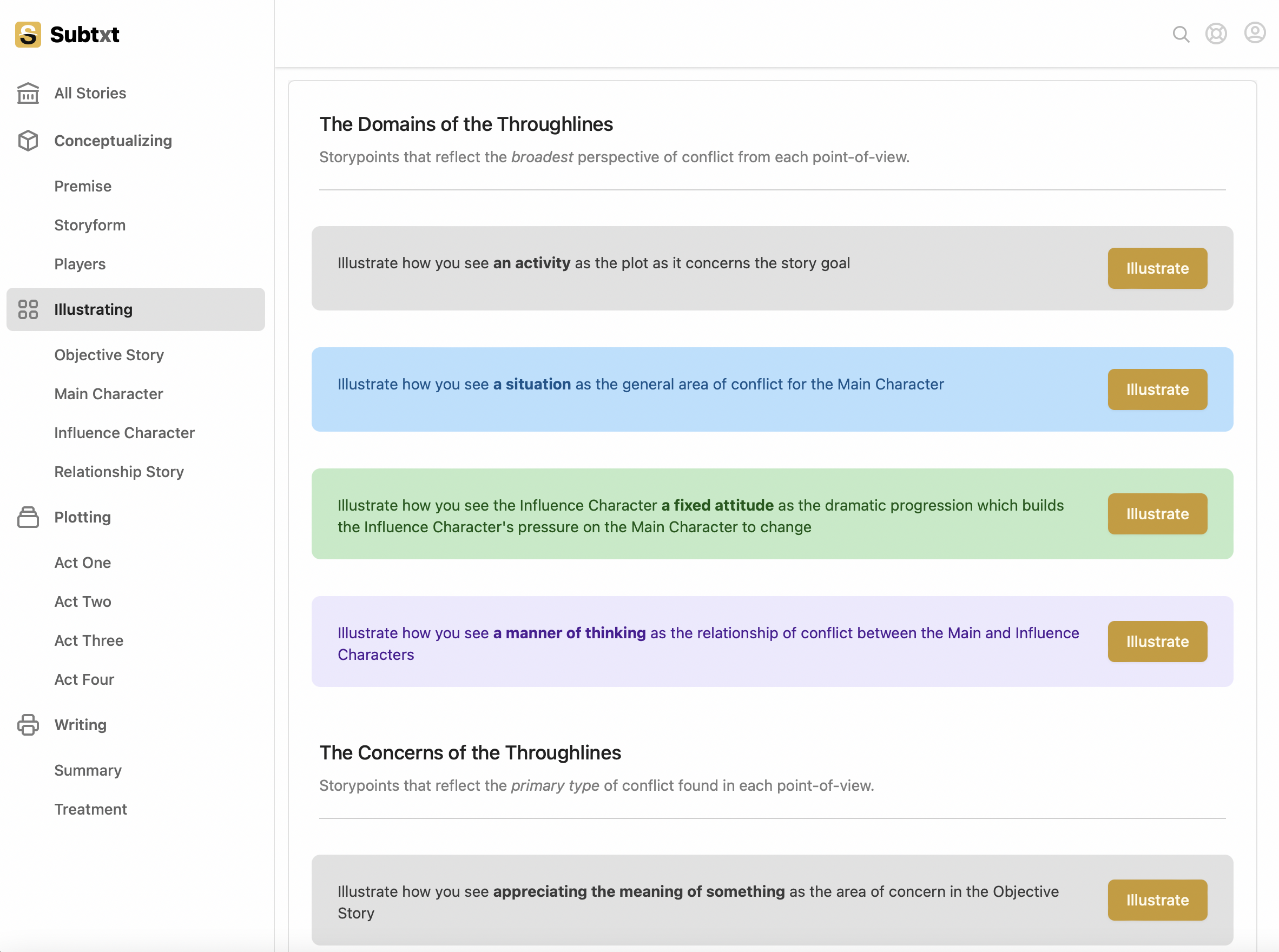 Illustrating Throughlines in Subtxt
The Four Throughlines
Every complete narrative consists of Four Throughlines. We say narrative because a single story can contain several different narratives (think Lord of the Rings). Nine times out of ten—ten times if this is your first time writing with Subtxt—your one story will consist of one narrative, which means one set of Four Throughlines.
In practical terms, the way these Four Throughlines work in a story is:
the Objective Story Throughline is the plot
the Main Character Throughline is who the Audience identifies with the most
the Influence Character Throughline has a different way of doing things
the Relationship Story Throughline is the bond between the Main Character and Influence Character
You must cover all Four Throughlines to create a complete story. Leave one out, and you leave your Audience wanting; leave two, and you leave your Audience out altogether.
Advanced Story Theory
At the heart of every complete story is a single inequity. This inequity is indescribable—if it were, we wouldn't need to go through the trouble of writing a story about it. Instead, we talk around inequity by taking four distinct points-of-view. By illustrating what the inequity looks like from these different perspectives, we communicate the essence of our story, and we lay the foundation for a meaningful Premise.
Illustrating a Storypoint
To Illustrate a Storypoint, click on the gold button labeled "Illustrate". When you do this, Subtxt will generate the appropriate Storypoint for your story.
Generating a Storypoint in Subtxt
As you can see in the example above, clicking "Illustrate" created an Objective Story Domain Storypoint of Physics. What this means is that, from the broadest perspective, the conflict in this story's plot will center around physical activities (like running, jumping, kicking, fighting, etc.). As the example was based off the original film Aliens, you can see how an Objective Story plot of Physics clearly defines the kind of conflict one finds in that story (fighting and killing and surviving aliens).
Note how this Storypoint is similar to the Crucial Element Storypoints discussed in Conceptualizing Your Story. Subtxt splits meaningful narrative into Storypoints and Storybeats. When you're illustrating those aspects of structure that show up throughout a narrative, you're working on Storypoints. When illustrating aspects of structure that shift from Act to Act, you're focusing on Storybeats. Storybeats are the heartbeat of a narrative; Storypoints are the places where you can point out the meaning of your story.
Customizing a General Illustration
The General Illustration that appears when you initially open a Storypoint is a random Illustration that you can either keep--or modify, and make your own. Sometimes, the Illustration Subtxt attaches to a Storypoint is perfect and just what you need to inspire some new avenue for your story. Other times, the Illustration is so far off (like the example above for Aliens, "doing a hire-wire act") that you'll want to make some adjustments.
Selecting a New General Illustration
The dropdown that appears when you tap on a General Illustration offers several different possibilities for how you can illustrate this particular Storypoint. Subtxt keeps the thematic intent (subtext) of the Storypoint intact (in this case, an Objective Story Domain of Physics), but then shows how far you can branch off in the Storytelling of this Storypoint while maintaining the integrity of your narrative structure.
Note how "surfing", "juggling", "driving someone around", "backpacking with someone", and "ice dancing with someone" all convey possible conflict focused on problematic activities (Physics). Selecting any one of these will change the story--while maintaining the meaning of the narrative deep underneath.
If you can't find an Illustration that fits with your story, feel free to type it directly into the search box at the top of the Storypoint.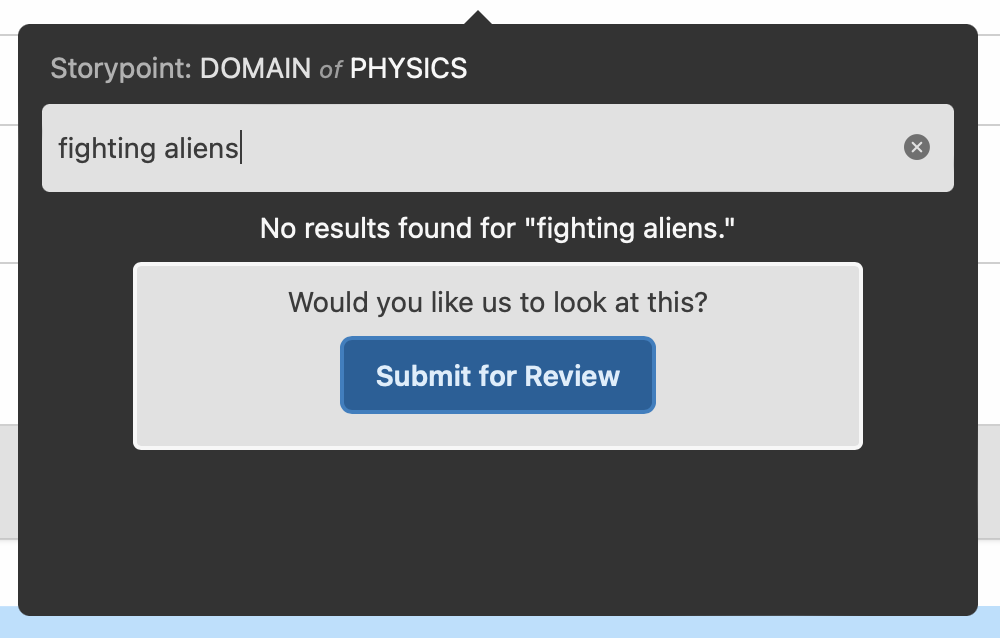 Submitting an Illustration for Review
Once Subtxt recognizes that you want to try something different, the app will ask if you want to submit this Illustration for review.
Reviewing a General Illustration
The review process for an Illustration is a win/win/win for writers everywhere. First and foremost, the review process is an opportunity to test your understanding of narrative structure and storytelling. If your submission is denied, the denial comes with an explanation as to why we made that decision. If you have further questions about your evaluation, you're encouraged to contact us. Teaching is at the heart of Subtxt, and we want to make sure everyone has an opportunity to learn.
Secondly, if approved your submission is an opportunity to contribute to the global collective of storytelling. Every accepted Illustration is made avaiable to everyone who subscribes to Subtxt.
If you would prefer to keep your storytelling private, you can always focus on Story-specific Illustrations instead.
Writing a Story-specific Illustration
Just below the General Illustration box, you'll find an input area for Story-specific Illustrations. This is where you can riff and modify a General Illustration to make it something more closely aligned with your current story.
Entering a Story-specific Illustration
In the example above, I've taken the General Illustration of "fighting" and changed it in the Story-specific Illustration to read "fighting aliens on a distant planet."
The nice thing about using Story-specific Illustrations is that the response is instaneous: you don't have to wait for someone to approve your Illustration. And of course, for those of you who prefer to keep your storytelling close to your chest, the Story-specific Illustration stays restricted to your account.
Using Subtxt AI to Better Understand a Storypoint
Once you've determined either a General Illustration or Story-specific Illustration for a Storypoint, you can use Subtxt AI to help generate various ideas for how this would play out in your story.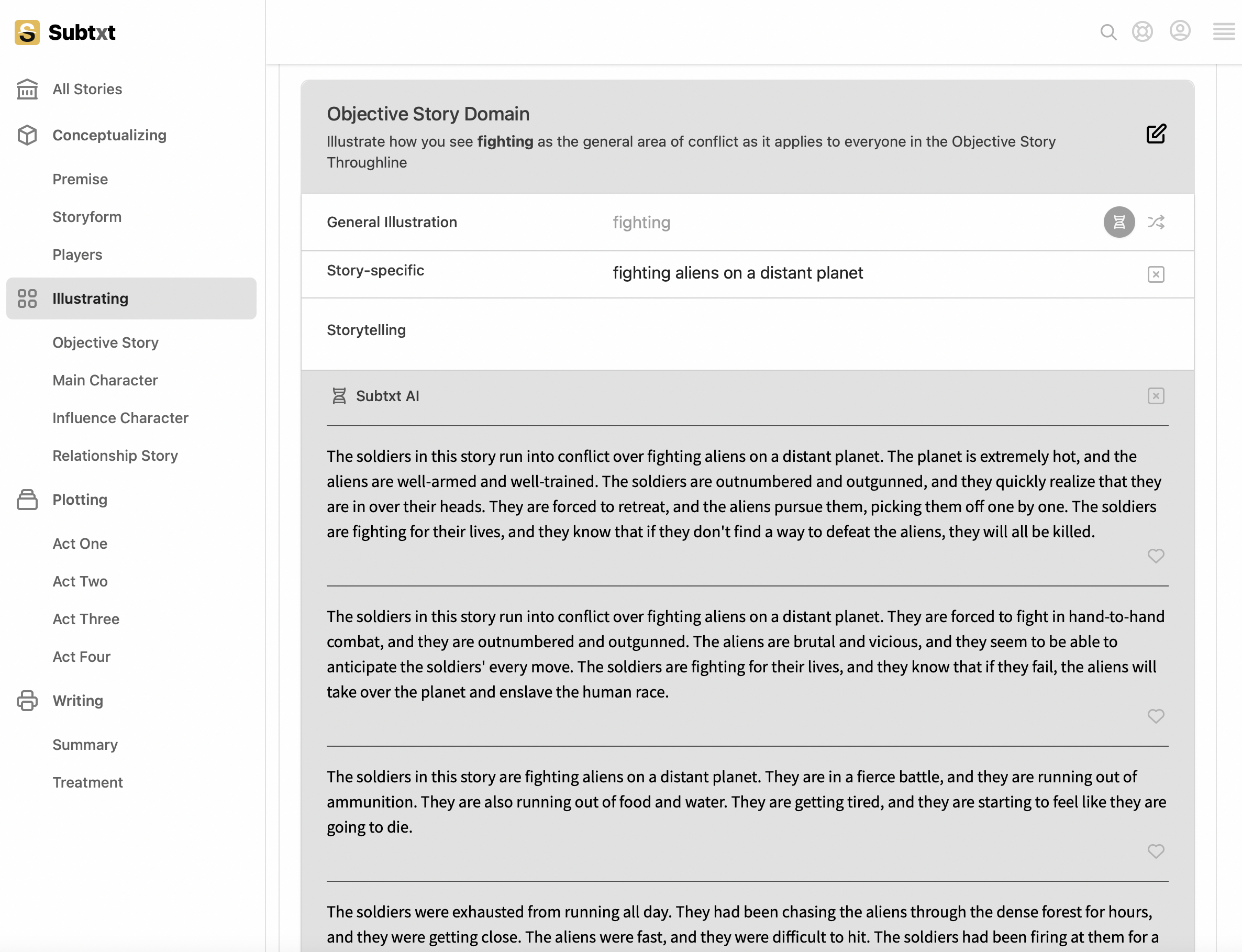 Storytelling Illustrations from Subtxt AI
Often a great source of inspiration and creative brainstorming, the results from Subtxt AI can be used immediately to drastically improve the world of your story. Simply "like", or "heart", the storytelling that speaks to you and Subtxt will record them in the Subtext section of your Storypoint.
Recording a Result from Subtxt AI
If you want, you can expand on these ideas in the Storytelling section of the Storypoint card or you could just leave them the way they are right now. Subtxt will intelligently "read" your Storypoint card to grab the most relevant data when building out the rest of your story...
...which leads us to the next step of Illustrating Throughlines: Building Out The Rest of Your Story. 😊
Illustrating All Four Throughlines
Once you've generated a general understanding of conflict in your Objective Story Throughline plot, move on to the Main Character Throughline and find a personal conflict unique to that intimate perspective. Then, develop an Influence Character Throughline perspective that challenges the Main Character to grow and then develop the emotional bond between them in the Relationship Story Throughline.
Beneath the four Domains of each Throughline, you'll find another set of four Storypoints: the Throughline Concerns. If the Domains of a Throughline define the general area of conflict, the Concerns of a Throughline illustrate the specific type of conflict found within those Domains. Imagine yourself ratcheting up the resolution and increasing magnification as the Concerns define the direction of conflict from each perspective.
The Concerns of Each Throughline
We strongly suggest illustrating all eight Storypoints in the Illustrating view: the four Domains and the four Concerns. Doing so will not only provide better results from Subtxt AI, but will also grant the extra-added benefit of allowing you to better understand your story.
Questions and Answers for Storypoints
As mentioned earlier, the primary mission of Subtxt is the education and enlightenment of storytellers everywhere. To help support this initiative, the bottom right-hand corner of every Storypoint holds two icons of interest: a Question mark and an Information mark.
Clicking the first opens up the definition of the Storypoint in question, and offers suggestions of how to approach illustrating that Storypoint within your story.
The Definition of an Objective Story Concern
Tapping the second mark, opens up a carousel of Storytelling and Illustration examples for stories similar to the one you are currently working on in Subtxt.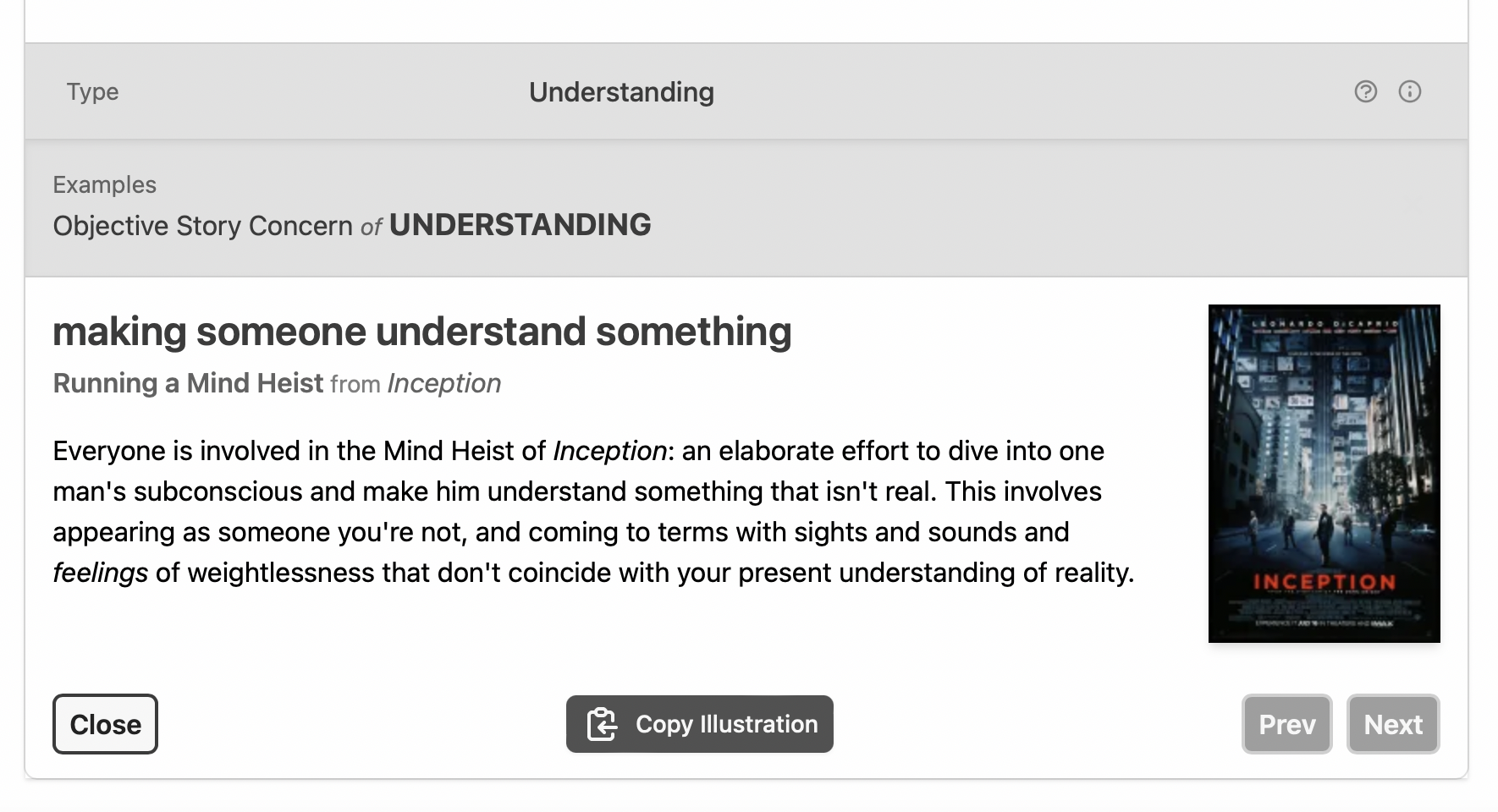 An Example of Understanding as an OS Concern
In the example above, you can see that the film Inception shares the same Objective Story Concern of Understanding from Aliens. While drastically different in Storytelling, the underlying source of conflict in both plots centers around what happens when people don't appreciate or understand the same things.
And the same goes for The Sixth Sense as well.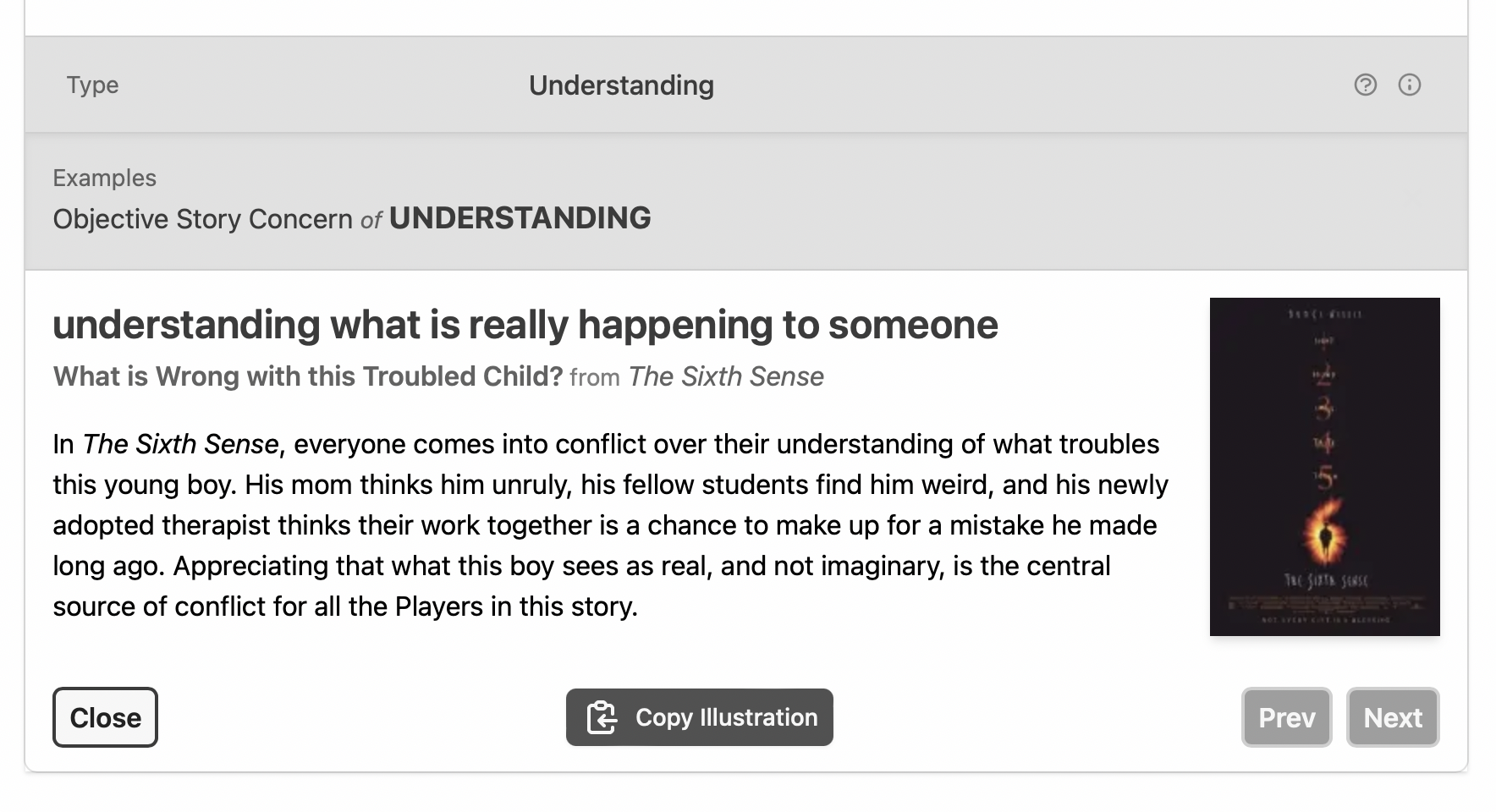 Another Example of Understanding as an OS Concern
You can continue to cycle through all the available examples by clicking "Prev" or "Next", or you can click "Close" to return to the Storypoint card.
If you find an Illustration Example that you would like to build from, simply tap "Copy Illustration" and Subtxt will copy and paste the Storytelling from that film or novel into your story.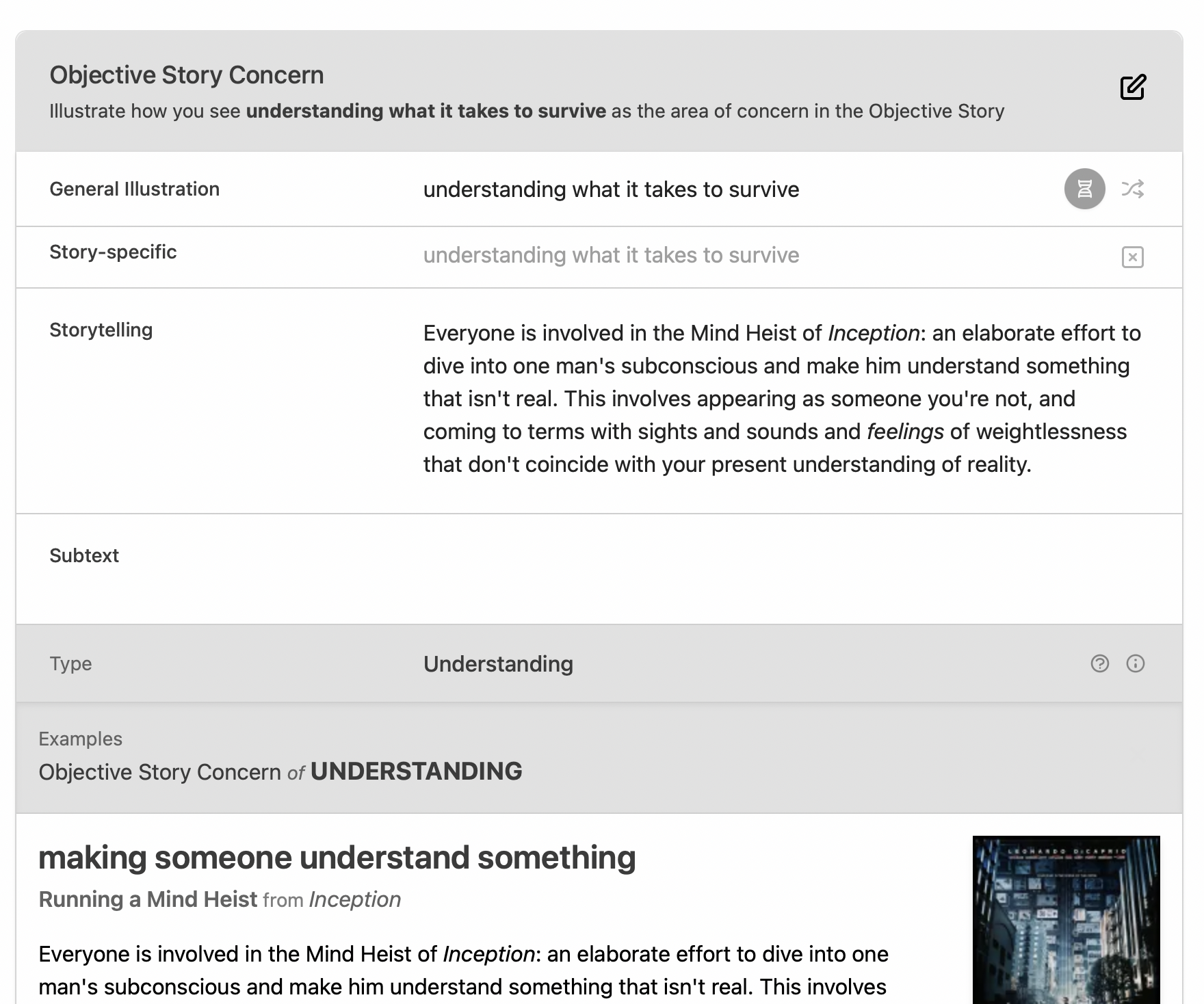 Copying an Illustration Example
From here, you can change the names and faces and even branch out on your own as you further define what it means to see this Storypoint in your story.
tip
If you find yourself confused by a particular Storypoint you can refer to these Examples and find a film, or novel, that explains it clearly to you. If you're not familiar with the work, you can watch it (or read it) to get a better understanding of how this particular Storypoint appears in a complete and meaninigful narrative.