Adding the Protagonist and Antagonist
Note Subtxt's automatic selection of "The characters" as the Player assigned to each of your Objective Story Throughline Storybeats. This is 100% on purpose. When looking from this perspective, it can be easier to see groups of characters, rather than the individuals themselves. The Objective Story view is an objective view of conflict, and groups tend to objectify their participants.
Another way to objectify characters is to think of them in terms of function—what is their purpose within the context of the story's basic plot? Who is moving towards a resolution, and who works to prevent, or avoid, that resolution?
The Protagonist and Antagonist are the two primary movers in your story:
the Protagonist pursues resolution
the Antagonist prevents resolution
By now, you have a pretty good idea of the basic plot in your story. Who seems to drive that plot forward? And who tries to prevent that progress?
Adding Basic Characters
Return to the Players, and ensure that your two candidates for Protagonist and Antagonist are listed somewhere. If not, add them as a Group or Individual (yes, both can be seen as Groups) to your story. Then assign them to the Objective Story Throughline by dragging their icon into the space marked Objective Story.
Adding Protagonist and Antagonist to Subtxt
Switch back to the Objective Story, and re-visit your entries for the individual Storybeats. If you tap on the first half of the Beat where it says "The characters", you'll now see a new drop down menu that allows you to choose the actual player for this one specific Beat.
Assigning Protagonist and Antagonist
Storybeats tie themselves to the narrative, not a character. Subtxt allows this reality of story by giving you the option to change the subject—or Player "bucket"—holding the Beat of a particular Premise.
:::tip The moment you stop thinking of your characters as real people, and you start seeing them as reflections of a meaningful Premise is the moment you break free of writing bad stories. :::
Work your way through your plot, adjusting the Player of each Beat where necessary, and re-visiting their respective Illustrations if they need to be updated.
A Path for Every Character
Your Objective Story plot now consists of four meaningful Storybeats assigned to a mix bag of groups of characters, Protagonist, and Antagonist. What we want to do now is round out the plot by making sure there is a Beat in each Act for both the Protagonist and Antagonist.
Tap on the blue button marked Add in the upper right hand corner, and select Act One in the dropdown menu. Subtxt scans its catalog of Illustrations for a random Beat appropriate for your story's structure and adds it to the first Act, right below the previous one.
Note how this new Storybeat compliments the original—as if it belongs in that place. Again, that suitability reflects a randomness of storytelling with just enough structure to keep it meaningful. Subtxt makes sure you never get lost in the weeds.
Dependent upon your choice of Player for the first Beat, change this one to reflect the unserved one. For instance, if you assigned your first Storybeat to the Protagonist of your story, assign this one to the Antagonist. If you kept it to the general group of "characters," assign this one to the Protagonist, and create a new Beat for the Antagonist.
Repeat this process for each Act, making sure a Storybeat exists for both Protagonist and Antagonist. Adjust the Storytelling Illustration to suit your story, or submit a new one. Tap to expand each Beat, and illustrate them with ideas that come to mind.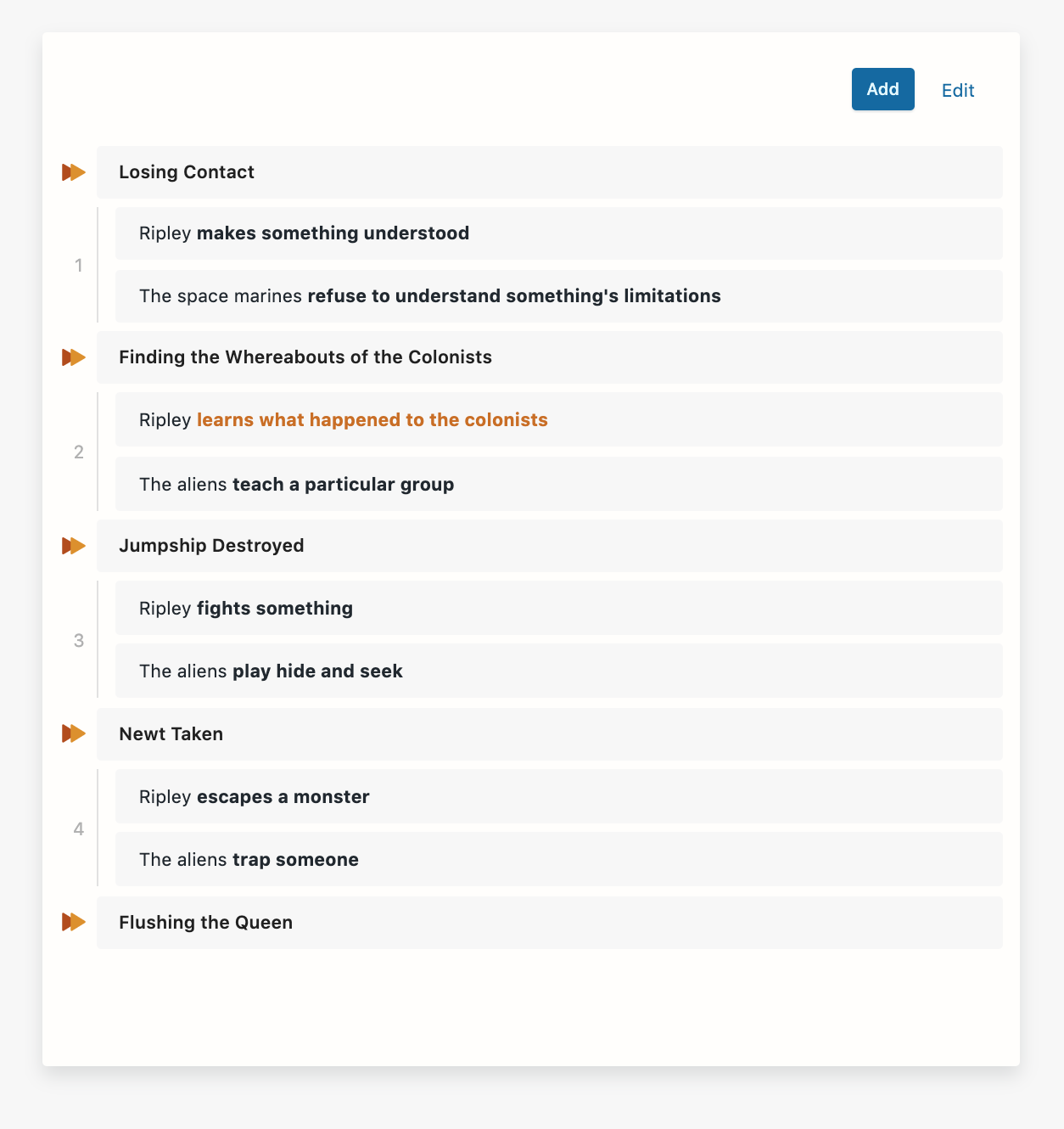 Final Basic Plot of Aliens
Finish, and your story's basic plot is complete. You now understand what drives your narrative forward, and what forces meaningfully hold it back. Even more, you possess an outline of characters tied together through a common Theme—the Premise of your story.
:::tip In larger ensemble-type stories, the number of Storybeats overwhelms the Objective Story view, making it almost impossible to manage with effectiveness.
In the upper left hand corner, find a button labeled Filter. Here, you can filter out the view so you only see those Storybeats tied to a particular Player. This option makes it easier to track the progress of a character throughout your entire story.
When finished, you can return to the default view by selecting All. :::